What is a logical standby database?
Apart from Physical and Snapshot Standby Database, it is another type of Standby Database.
It is an active database that can be read-write in open mode.
Reporting and querying can be done. Thus, it can reduce the load of the production database with correct usage.
Since the Logical Standby is not a Block by block standby database, the Logical Standby does not pass any physical corruption on the Primary database to the Logical Standby.
Logical standby has the ability to make Switchover and Failover.
Its most important feature is that it can be used in Oracle Database Software and Patch upgrades.
Redos in Physical Standby were replicated as Redo-Apply. In Logical Standby, it is replicated as SQL Apply. It performs this with LogMiner Technology.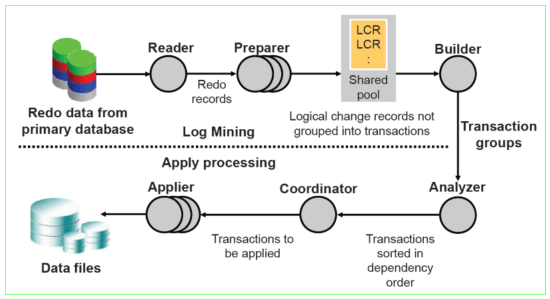 Reader: Reads redo records from Redo Buffer Cache or Archive redo log files.
Preparer: Converts block level changes to Logical Change Records. The concept of transaction does not yet exist.
Builder: Creates transactions from single LCRs. The concept of transaction now exists.
Analyzer: Groups transactions by analyzing whether there is a dependency between different transactions.
Coordinator: Gives the Logical Standby the commitment to make changes.
Applier: Processes LCRs into database.
SQL Apply is done by LSP process.