The Observer stop command should be called either from the Primary Database or from the Standby Databases connected to the Primary Database.
1. We stop the Observer.
[Primary-1]
2. We see the information that there is an immediate stop on the terminal server where the Observer is started.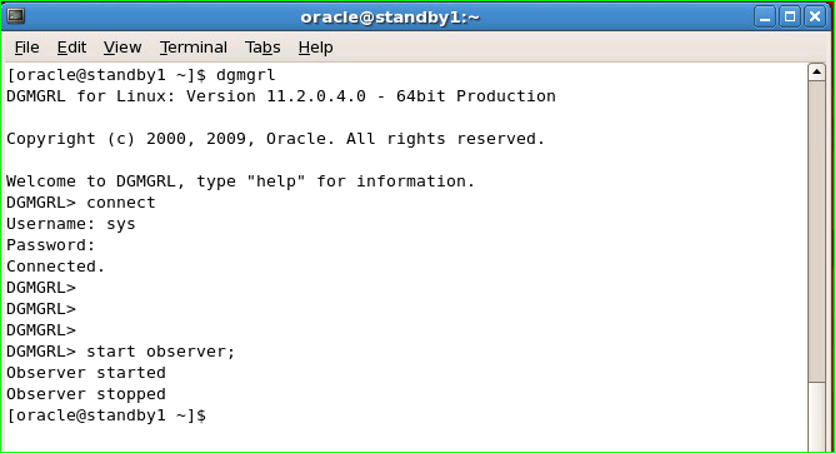 3. When the configuration is queried, we see the warning that the Observer is not running.
1

2

3

4

5

6

7

8

9

10

11

12

13

14

15

16

17

18

19

20

21

22

23

24

25

26

27

28

29

30

31

32

33

34

35

36

37

38

39

40

41

42

DGMGRL

>

show

configuration

verbose

;

Configuration

-

Broker_Configuration

Protection

Mode

:

MaxPerformance

primary

-

Primary

database

Warning

:

ORA

-

16819

:

fast

-

start

failover

observer

not

started

standby

-

(

*

)

Physical

standby

database

Warning

:

ORA

-

16819

:

fast

-

start

failover

observer

not

started

logical

-

Logical

standby

database

(

*

)

Fast

-

Start

Failover

target

FastStartFailoverThreshold

=

'100'

FastStartFailoverLagLimit

=

'900'

CommunicationTimeout

=

'180'

FastStartFailoverAutoReinstate

=

'TRUE'

FastStartFailoverPmyShutdown

=

'TRUE'

BystandersFollowRoleChange

=

'ALL'

ObserverOverride

=

'FALSE'

ExternalDestination1

=

''

ExternalDestination2

=

''

PrimaryLostWriteAction

=

'CONTINUE'

Fast

-

Start

Failover

:

ENABLED

Observer

Reconnect

:

15

seconds
WARNING