We may want to change the schema name because of some needs. For this we can use the following script.
First, we list the schemes with the command \dn as follows.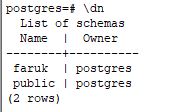 We change the name of the faruk scheme with the help of the following command.
ALTER

SCHEMA

faruk

RENAME

TO

ERDEM

;
We changed the schema name to ERDEM. Use \dn command to check whether the name has changed.